Board of Directors
Busselton Water is headed by a Board of Directors responsible for overseeing the corporation's activity and contributing to our high standards of Governance. The Board responds to the Minister for Water and provides strategic direction and guidance to the Managing Director and Executive. It establishes the setting for our corporate culture to enable Busselton Water to achieve high levels of performance and compliance.
Board members are nominated by the Minister for Water and appointed by the Governor in Executive Council to serve a three year term. Approximately one third of the Board retires each year and Directors are eligible for re-appointment at the conclusion of their term.
---
Dr Robyn Paice, BSc (Hons), PhD
Chair
Appointed to the Board in September 2018 and Chair from June 2022, Dr Robyn Paice has extensive scientific experience and knowledge related to the investigation and restoration of aquatic ecosystems. Dr Paice brings to the Board her valuable experience in water policy analysis and development together with extensive networks and understanding of local waterways. Dr Paice's term expires in May 2024.
---
Christine Kershaw
First appointed to the Board in 2017 and re-appointed in 2020, Christine Kershaw is a trainer and consultant with a background in urban and regional development and environmental management.  Ms Kershaw has strong networks within the region and is Chair of the Cape Naturaliste College. She is also a former Chair of South West Catchment Council and former Regional Landcare Facilitator and Steering Committee member, and Regional Development Australia (South West) Board member. Ms Kershaw's term expires in May 2023.
---
Dr Gae Synnott, BA (Comms), MBA, PhD

Dr Gae Synnott was appointed to the Board in September 2018, bringing more than 35 years' experience as a management and communications professional.  Self-employed since 1997, Dr Synnott has a social sciences background and has worked across State and Local Government and a broad range of sectors including resources, infrastructure development, education, the arts, environment (waste and water), health, and sport and recreation. Key areas of her expertise include strategy, outcomes measurement, communications and culture. She is also on the Board of not-for-profit organisation, National Foundation for Australian Women. Dr Synnott's term expires in May 2024.
---
Chris Elliott, MBA, GDip Bus, BE (Hons), MIE Aust, CPEng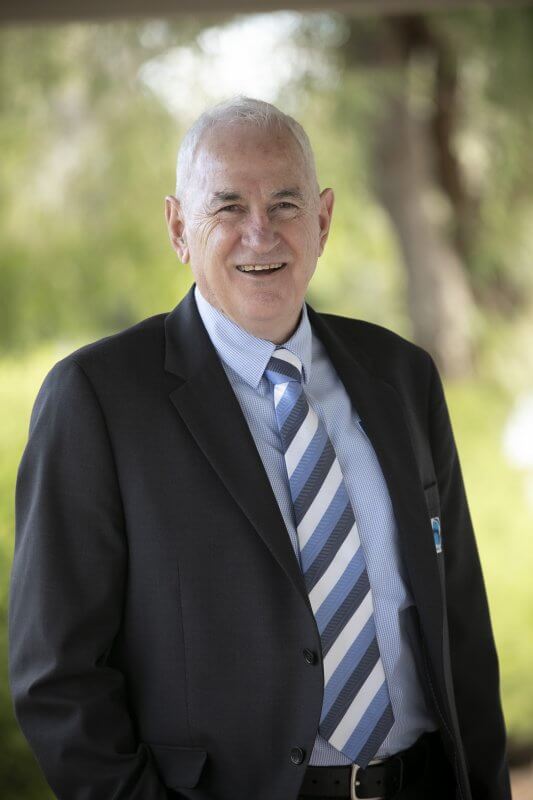 Chris Elliott has been Chief Executive Officer/Managing Director of Busselton Water since January 2013 and joined the Board in 2018. Under Chris' leadership, Busselton Water successfully transitioned through corporatisation to become a Government Trading Enterprise and has achieved a range of business successes and innovations. Chris brings both private and public sector senior executive experience and extensive knowledge of the water industry.
In 2020 Chris was recognised as the Australian Water Associations (AWA) West Australian Water Professional of the Year and nominated in the 2021 AWA National Awards – watch video submission
---
Robin Belford, BEng, GDip Eng, GDip Sci, MIE Aust, CP Eng
Robin Belford has extensive engineering and management experience within the water and construction industries within both the private and public sectors. He possesses a deep understanding of the water sector, and has particular experience and expertise in water supply, water quality and asset management. Appointed to the Board in June 2022 with his term expiring 31 May 2025, Mr Belford is passionate about the delivery of sustainable public water services.
---
Jane Sparkes, B.Bus CA
Jane Sparkes is Director and Partner of local accounting firm, STA Accountants and has more than 20 years of accounting and advisory experience. Appointed to the Board in 2022, Mrs Sparkes has expertise in business structures, budgeting and forecasting, high level analysis of business performance and benchmarking of businesses. She also offers extensive business and industry networks across the South West, particularly within the agriculture sector. Mrs Sparkes term expires 31 May 2025.
---
Lorraine Watts, GradCertMgt
Ms Watts was first appointed to the Board on 26 July 2022, is a Busselton resident and has held a diverse range of WA State Government department positions including Senior Policy Officer – Women's Interests, Department for Communities. Ms Watts experience also includes project management, program implementation and research projects. Ms Watts is currently Chairperson of The People Place Busselton, was a former Councillor of the East Pilbara Shire and formerly held the position of Secretary for Naturaliste University of the Third Age Inc.