Waterwise gardens
Waterwise Tips
A large portion of our household water use is in our gardens – from garden beds to vegetables patches and lawns.
For easy ways and tips to make your garden waterwise, ensuring they are not only water efficient but also look good all year round read our garden guide.
Irrigation
After installation of a waterwise garden, the biggest water costing habit is the amount we water our gardens and how we're watering them. Installing the right kind of irrigation can help you implement waterwise behaviours and save you money long term.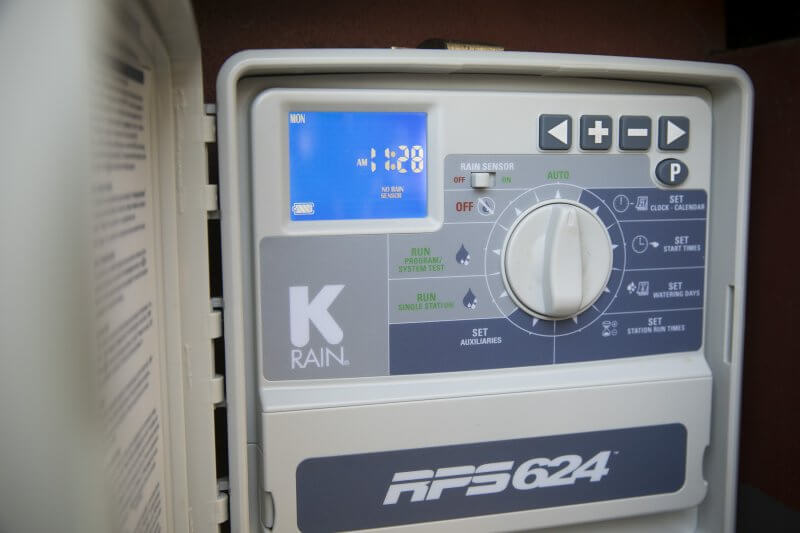 Install an Automatic Irrigation System
Automatic irrigation controllers are programmable electronic timers which switch irrigation stations on and off at specified times (in summer these should be the two allocated watering days).
Select the best irrigation type
Irrigation types
Description
Suggested run time (10mm)
Fixed spray sprinklers
Recommended for lawn
Fixed spray sprinklers have fixed radius heads set at a pre-set arc or a predetermined radius action. Position them so that they aren't blocked by vegetation and don't overspray onto paving.
13-16 mins
Rotary sprinklers
Recommended for lawn and garden beds
Rotary sprinkles provide even water distribution in calm wind conditions. Like all spray irrigation, large spraying distances can result in water loss through evaporation and wind drift.
40-60 mins
Gear drive sprinklers
Recommended for lawn
Gear drive sprinklers operate via water driven gears and usually require more water pressure to operate than rotary, spray or drip irrigation types. Gear drive sprinklers are vulnerable to water loss from wind drift and evaporation.
30-40 mins
Drip irrigation
Recommended for garden beds
Drip irrigation is the most effective, water efficient means of irrigation available. Drip irrigation applies water on the ground and close to the root zone, effectively eliminating water loss due to overspray and wind drift. It can be mulched over, which further reduces the potential water loss through evaporation.
30-40 mins
Micro spray irrigation
Not recommended
Whilst micro sprays are inexpensive and easy to install, they have a number of disadvantages including higher maintenance requirements due to the spray heads clogging up, are quite easily damaged or vandalised, uneven spray pattern and lose a significant proportion of irrigation water due to wind drift and misting.
13-16 mins
More ways you can save water in your garden
Consider installing other water saving technologies – these can be inexpensive devices that are easily fitted to most automatic irrigation systems, and can save water by irrigating base on weather readings.
Evaporation sensors and weather stations are sensors that will adjust the irrigation cycle based on a mixture of the current climatic conditions and plant's estimated water demand
Rain sensors disconnect the automatic irrigation system controller temporarily when a specific amount of rainfall has occurred
Soil moisture sensors modify the pre-set irrigation run time based on the amount of moisture in the soil
Information provided by GeoCatch: Bay OK Garden Guide – A simple garden guide for Geographe Bay – Eagle Bay to Dalyellup.
Further reading